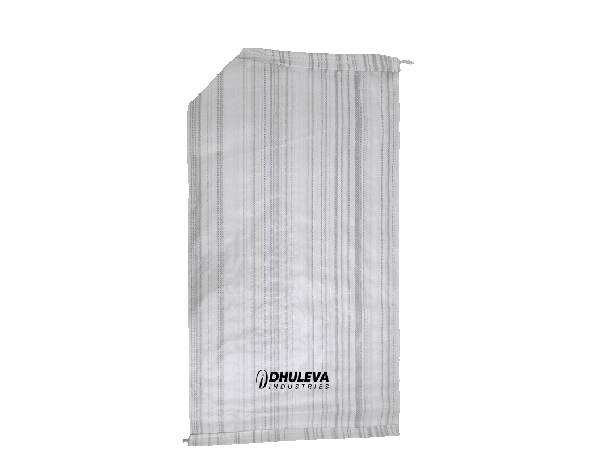 Valve Type Bags Manufacturer in India
Valve-type bags are designed to provide efficient packaging solutions for various products, including cement, chemicals, petrochemicals, food grains, and other similar items. At Dhuleva Industries, we specialize in providing high-quality valve-type bags that meet the unique needs of our clients.
Our valve-type bags are made using superior-quality polypropylene material, which provides excellent strength, flexibility, and tear resistance. This makes our bags ideal for use in various industries where the packaging material must withstand rough handling, extreme weather conditions, and long-term storage. We offer a range of valve-type bags in different sizes and designs to cater to the specific needs of our clients.
Properties of Valve-Type Bags

Easy filling
Our valve-type bags have a convenient valve opening that makes them easy to fill with your desired material. This feature saves time and effort during the packaging process, which can help increase efficiency and productivity.

Minimal spillage
Valve-type bags are designed to reduce the risk of spillage during transportation and storage. The valve opening can be securely closed once the bag is filled, preventing any material from leaking out.

Durable construction
Our valve-type bags are made from high-quality polypropylene woven fabric, which is known for its strength and durability. This ensures that the bags can withstand the rigours of transportation and handling without tearing or breaking.

Versatile use
Valve-type bags can be used to package a wide range of materials, including grains, powders, chemicals, and more. This makes them a versatile option for various industries, including agriculture, construction, and manufacturing.

Space-saving design
Our valve-type bags are designed to be space-saving, which means they can be stacked on top of each other without taking up too much room. This feature is particularly useful during transportation and storage, where space can be limited.

Customizable options
We offer customizable options for our valve-type bags, including different sizes, colours, and printing options. This allows you to create a bag that meets your specific needs and branding requirements.
Why Choose Us as your Valve-Type Bags Packaging Partner

Uncompromising Quality
We are committed to providing the highest quality PP woven bags and fabrics to our clients. Our products go through rigorous quality checks to ensure that they meet our high standards.
Customer-Focused Services
Our customer-oriented services are second to none. We prioritize our clients' satisfaction by providing them with tailored solutions that meet their unique packaging needs.

Timely Deliveries
We understand the importance of timely deliveries in the packaging industry. Therefore, we strive to deliver our products on time, every time, to ensure that our clients' operations run smoothly.

Skilled Workforce
Our skilled workforce is our backbone, and we invest in their training and development. This enables us to keep up with the latest industry trends and to provide our clients with cutting-edge packaging solutions.