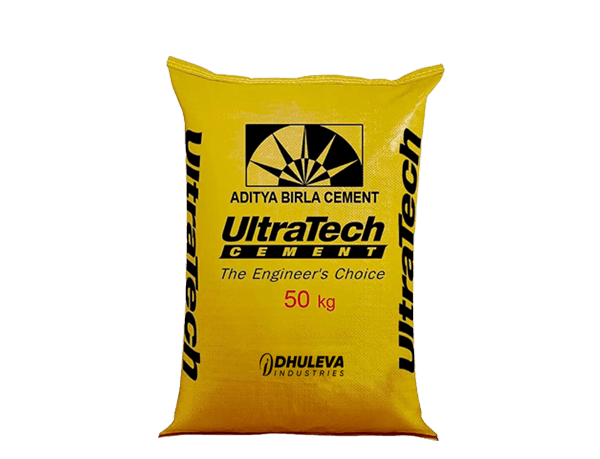 What are Cement Bags
As leading cement packing bag manufacturers and suppliers in India, we understand the importance of quality and durability when it comes to packaging materials for cement and other minerals. Cement bags, also known as PP woven sacks, are designed to provide a reliable and cost-effective solution for the transportation and storage of cement and other powdered materials.
Our cement bags are made using high-quality polypropylene material, which offers excellent strength, flexibility, and tear resistance. This makes our bags ideal for use in the cement and mineral industry, where the packaging material must withstand rough handling, extreme weather conditions, and long-term storage. Whether you need cement bags for construction, industrial, or commercial use, you can trust Dhuleva Industries to deliver the highest quality products at the most competitive prices.
Properties of Cement Bags

Durability
Our Cement Bags are made from superior-quality polypropylene material, which makes them highly durable and resistant to tears, punctures, and abrasions.

Moisture resistance
Our Cement Bags have excellent moisture resistance, which prevents moisture from entering and spoiling the cement during transportation and storage.

UV protection
Our Cement Bags have UV protection that safeguards them from harmful ultraviolet rays and extends their lifespan.

Printing quality
We use advanced printing technology to ensure that our Cement Bags have high-quality printing that is legible, vibrant, and long-lasting.

Load capacity
Our Cement Bags are designed to withstand the weight of heavy loads, ensuring that the bags do not break or tear during transportation.

Eco-friendliness
Our Cement Bags are eco-friendly and reusable, which makes them an environmentally responsible choice for the construction industry.
Why Choose Us as your Cement Bags Packaging Partner

Uncompromising Quality
We are committed to providing the highest quality PP woven bags and fabrics to our clients. Our products go through rigorous quality checks to ensure that they meet our high standards.
Customer-Focused Services
Our customer-oriented services are second to none. We prioritize our clients' satisfaction by providing them with tailored solutions that meet their unique packaging needs.

Timely Deliveries
We understand the importance of timely deliveries in the packaging industry. Therefore, we strive to deliver our products on time, every time, to ensure that our clients' operations run smoothly.

Skilled Workforce
Our skilled workforce is our backbone, and we invest in their training and development. This enables us to keep up with the latest industry trends and to provide our clients with cutting-edge packaging solutions.